The third race took us to a very warm Borås with up to 30 degree heat. During Saturday's practice, more drivers held back on driving workouts so as not to run out before the races had even started.
Open
In the Open, 24 drivers participated, enough to run A and B finals here as well. Well done organizer!
The drivers were split up at Open one and two, where the first and second places in Open two get to step up and run the A-final. The A-final thus had 15 drivers while the B-final consisted of 9 drivers. Martin Ekwall and August Lundström worked their way into the A-final where they could place in ninth and fourteenth place.
Newcomer Andreas Andersson was fastest at today's training, fastest at qualifying and won heats one and two. He worked his way through the entire field, of course, on two laps (!), even in the final with reverse starting order and took the victory. Andreas had a best time during the day at 55,933. It would have been enough for a seventh starting place in the elite, and then he had also got someone to contend with.
In second place, in all three heats, came Albin Lundbäck. Albin drove well already on Tuvängen but could really show his capacity now on a track with a longer gravel section. Anton Johansson was able to pinch third place in the first heat and in the final heat. He had to settle for sixth place in heat two. Even so, he got enough points for a podium.
Elit
For the first time in a long time, we got an exciting qualification round in the Elite class. After just a few minutes into qualifying we could see Hampus Gustafson coming running next to the bike from the other side of the track, in 26 degree heat. Once off the track, he leaves the seemingly broken machine, runs to his tent and the team prepares the second bike that stood on rain tires. With 15 minutes left of the session, Hampus goes out on to cold slicks. It took him three laps before he feels he can start pushing again.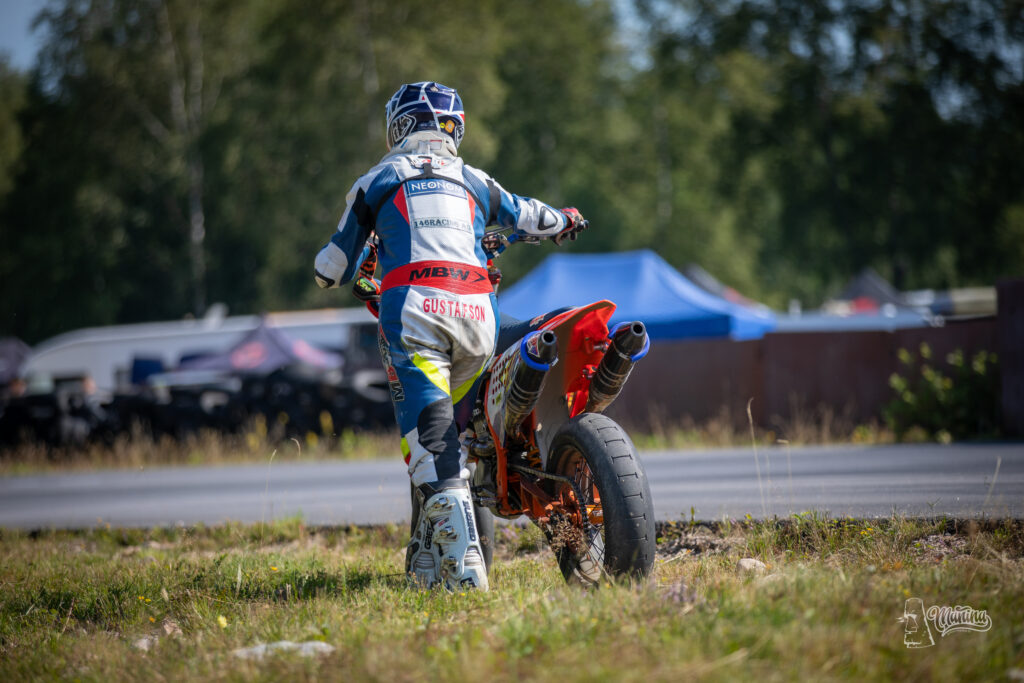 In the meantime, Fredrik Eriksson worked on his lap times and put 54,273 on lap seven. Soon after, Hampus sets his fastest time, 53,683. Fredrik improves again on his last lap to 54,127, but that's not quite enough to beat Hampus. Carl Wennerberg set the third best time at 54,556.
Hampus takes the win in heats one and two from pole with customary simplicity. In the final, however, he gets a little backlash. Hampus ends up behind a wobble on the gravel during lap two, giving the guys a head start. After the first lap he is up in fifth place, but it takes him until the penultimate lap before he is up to the lead..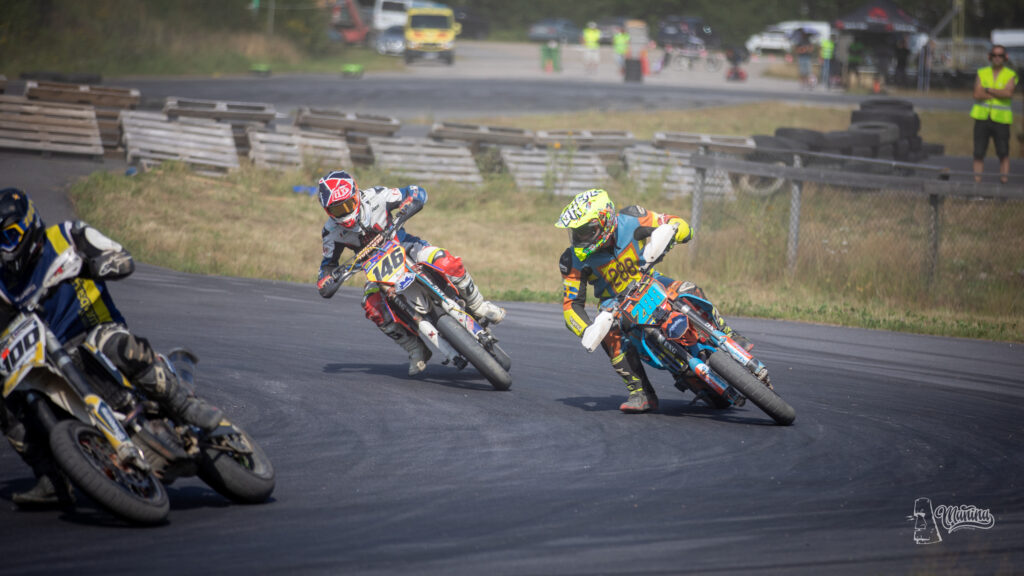 Fredrik delivers and takes second place in heats one and two. In the final he never manages to get past Skovby and has to settle for third place. Daniel Christensen, Carl and Jonas Skovby offered nice fights. In heat one Daniel was in third place for six laps before Skovby and Carl could pass. After that, Daniel dropped on the drivers in front and he could never really challenge them any more during the day. Skovby was able to get past Carl and Daniel in the first heat for third place. Carl won the fight in heat two but will have to settle for fourth place in the final heat. It's really fun to see Skovby show his feet when we run tracks where it benefits drivers who are strong on a loose surface.
Hampus took the total for the day with Fredrik in second place and Skovby in third.
Johan Altzar, who drove in Elit for the first time in Borlänge, placed in seventh place.
We still feel that we should mention Fredrik one more time. Of all the active drivers we have, Fredrik is the one who has driven the longest. He delivers year after year and places himself on podiums consistently. But above all, it is very rarely we see Fredrik make mistakes in his driving. He deserves an extra picture.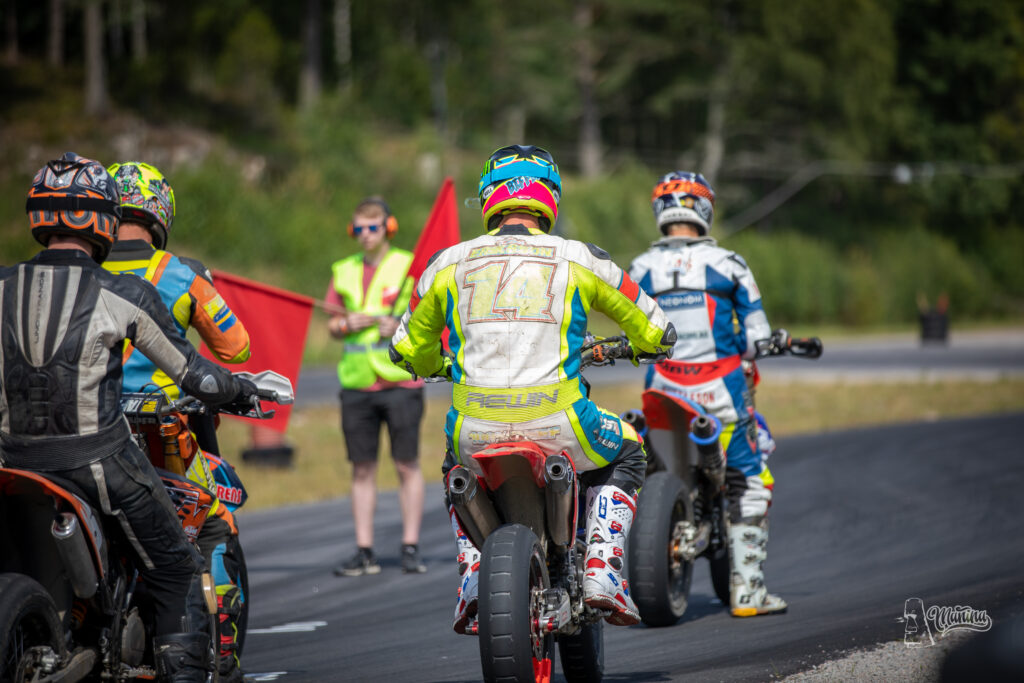 Lappers and the blue flag
During the day in Borås we unfortunately also saw something that does not benefit the drivers or the competition. On at least four occasions, pilots could be seen being alerted with a clear blue flag, giving more gas and, we can assume, trying to take advantage of the fact that faster drivers are behind it. [If you can block the passing contender, it's likely the guy who chased you can't get past either.]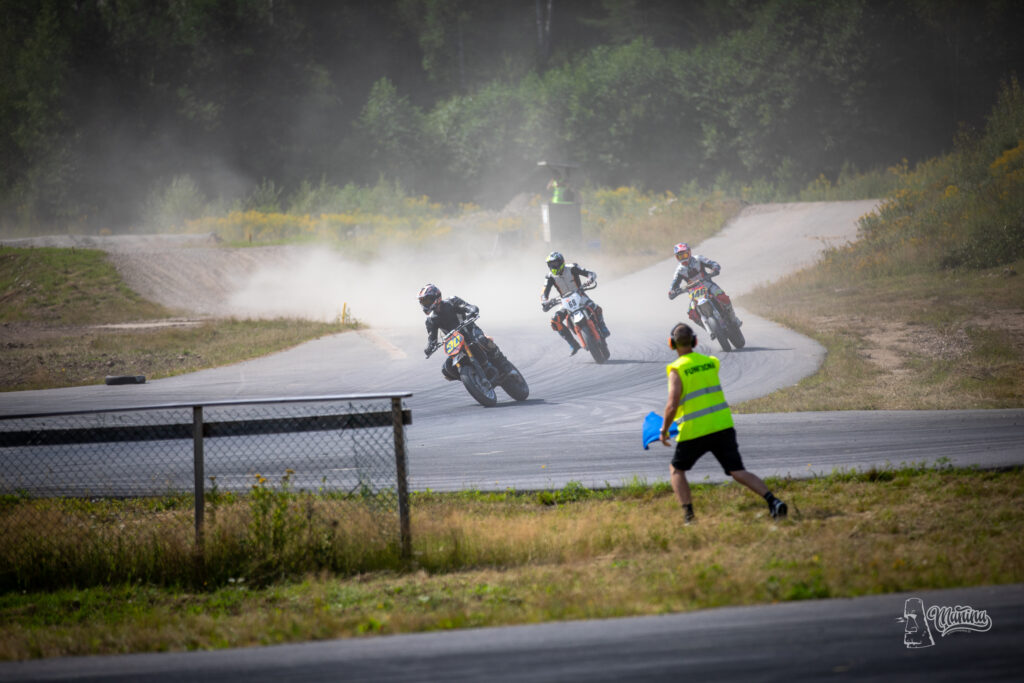 The regulations say this about the blue flag that is waved when you are about to be [varvad]:
"Pay attention, you're being lapped. The driver shall continue to drive as before with consistent track selection but without covering or driving defensively."
Sadly, several drivers simply did not respect the regulations. We'll see if it continues and how the competition management can handle future situations.
Full results can be found at Svemo
The next race will be held in Örebro on August 23rd.
This post is also available in: Svenska