Race two of the Swedish Nationa series of 2020, was run on the go-cart track in Borlänge, without a dirt section. The 830-meter-long track is narrow and does not offer many overtaking opportunities. If you want to get past the driver in front, you have to be noticeably faster or go in and take your place. Something that we saw several of the pilots had problems with.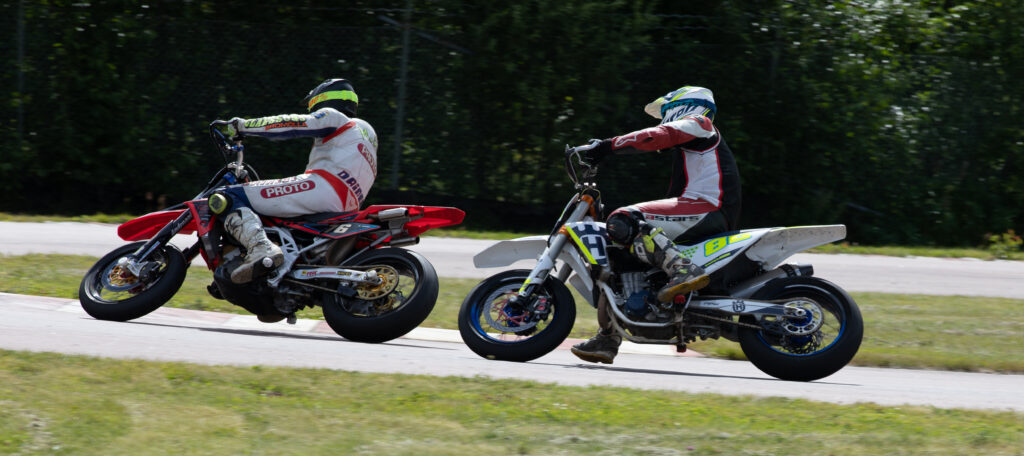 Open
In the Open class, we were surprised to see 22 drivers registered, which resulted in A and B finals. Johan Altzar who we thought would take over the series lead this weekend, chose to step up and run in Elit on a wildcard. He rode times that were about two seconds faster than second positioned rider in Open, so it was the correct decision we feel. We'll see if he keeps going in the Elite class for the rest of the year or if he comes back to Open when we're no longer on his home track.
The fight in the Open class was between Niclas Jonsson, Patrick Bengtsson, Jimmy Hedlund and Joackim Wigestål. Niclas competed in the Borlänge competition last year and went down in the final. He placed fifth and sixth in heats one and two last year. So we were not too surprised to see him high up in this year's results list. Patrick and Jocke we haven't seen in top fights before so it was a happy surprise. Jimmy normally drives supermono with his Husqvarna 701 which is tuned to run big track / supermono. It is far from suited to the driving it was subjected to over the weekend and it was very clear that full throttle out of tight curves with the 701 created some friction between rubber and asphalt.
Niclas managed to win the first heat. He finished second in heats two and third in the final. It gave him the overall victory.
Jocke placed fourth and third in heats one and two. In the final heat with reverse starting order, he managed to clinch the win after starting in the third half. A crash in the first bend ensured that three drivers from the first and second starting stages had to ride to the back and chase. Jocke was second overall in the competition.
Patrick looked strong at trainings and qualifiers and in the first heat he had the lead but saw himself overtaken by Niclas and he placed 2-8-5 during the day. It wasn't enough for a podium, but he has third place in the overall.
Jimmy drove well and won heat two. He was third overall after placing 3-1-4.It looks like there is more interest from riders to run a race if it is a pure asphalt race. It's fun to see and it's a luxury problem that the open has to run with A and B-finals.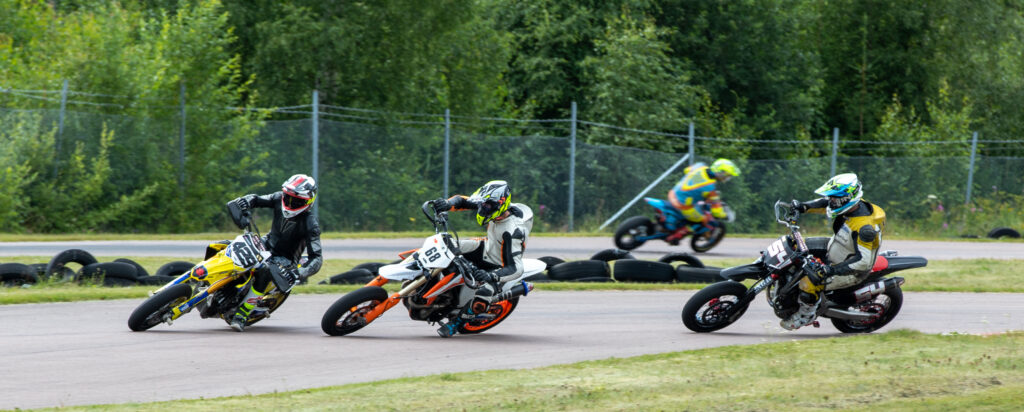 Elit
Hampus came to the start as second in the championship after a mechanical trouble in Södertälje, Fredrik had the lead for the weekend. But this time there was nothing messing with Hampus and he was able to cross the line as 1-1-1 without any major problems. Max Eriksson guest-starred and took second place in all heats before Fredrik.
There were some fights further down the field. Johan Altzar had to contend with both Jonas Skovby and Daniel Christensen. Johan did well but Skovby beat him in heat one and in the final heat. Johan was behind him and it looked like he could have run away if he had just made it past. But Skovby blocked and refused to let go of his placement. We know since last year that Skovby is fast on gravel, so it will be interesting to see if Johan and Skovby will continue to fight in upcoming races where the tracks are more varied and allow more overtakings.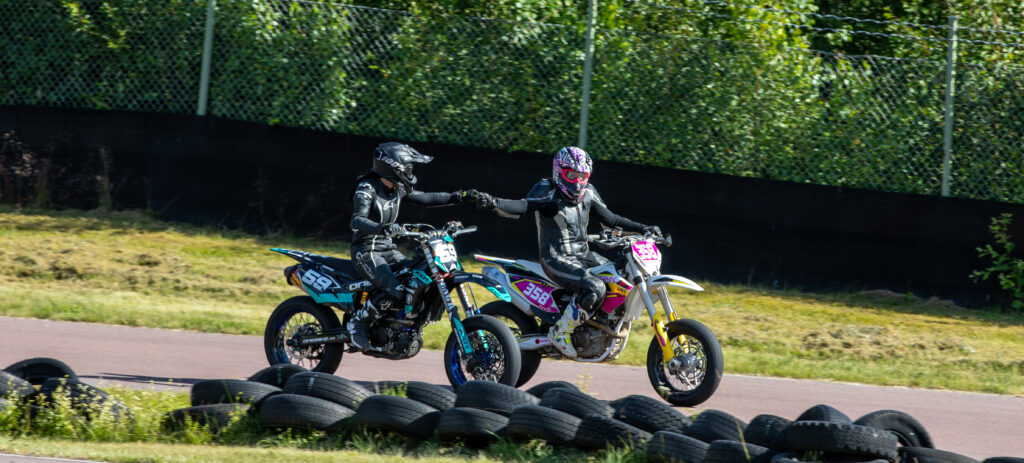 Dam
The women's class had three participants this weekend and the fight went between Frida Granvik and Henny Cederholm where Frida won two of three heats. Lisa Envall took third place.
All results can be found on Svemo's website and on Speedhive. Would you rather see the summary in moving pictures, when you have now read all the text, there is a movie from Segerlind Foto on YouTube, also below.
The next race is held in Borås, which in the past has been very good at attracting new drivers to their competitions. Can we beat the number of participants from Borlänge already in the next competition?
This post is also available in: Svenska