Intro
Laptimers sounds like a cool idea. Keeping track of your laptimes while riding tells you whether you are going faster or if you´re just coasting around enjoying the nice scenery. If you´re in the market for a laptimer, how will you be able to decide which one you should get?
Let´s see if we can aid you in that decision.
For those of you that don´t have the time to read everything and just want to know what to get, we´ve got your back. Up top you´ll find six categories that should solve your problem.
You´re welcome!
If you´re still here, then we´re going to try and make it worth your time. Let´s start of by saying that we´ve only tested GPS-laptimers in this test. The ir-units that used to be very popular just isn´t as good as the ones equipped with gps. So we´re strictly looking at gps-units.
When looking at GPS-laptimers, you´ll notice that it differs between different models in terms of how often they update their position. A refresh rate of 1Hz means that the device logs your location every second. 10Hz logs 10 times in one second. With 1Hz update, we have noticed that lap times can vary from lap to lap, which is probably why most laptimers today use 10Hz. In our test, we have one supplier that stands out by using 50Hz. For us, we haven´t noticed any difference between 10Hz and 50Hz, but if you´re also using your laptimer as a datalogger, then there may be an advantage to having 50Hz since it gives you more frequently updated data.
Datalogger? Yes, several of today's units have the possibility to connect to the bike's electrical system/ECU to read out speed, percentage of max throttle, engine temperature and much more. You log the data, hence the term "datalogger". In addition to that, there is also the possibility to connect external sensors such as brake pressure gauges, wheel rotation speed, suspension sensors and a lot of other fun stuff. The downside of that equipment is that it obviously costs money. The advantage is that you can get graphs and numbers that tell you as a rider what you are doing wrong. If you enjoy those sorts of things.
In addition to that the laptimers also differ in size, types of display and the price of course.
In this article, we have tested five different laptimers. We´ve summarised of specifications here for those of you interested.
Specs
If we start by looking at the form factor, it's hard not to be impressed with Start Micro. It´s barely larger than an hour counter but still manages to do what we want it to do, log lap times. If we're going to comment on the displays, the Q-starz really makes it easy to know if you´re going faster or not. It changes the color of the display to green if your last lap time was faster than your previously fastest, or red if you were slower. Starlane and PZ Racing Start have chosen to use a single LED on the side of the display that lights up if you´ve driven faster. With the Solo 2/DL you have two LED bars, one on each side of the display. The device keeps track of how much faster, or slower, you're driving than your fastest lap. If both bars are green, you're faster. If the bars drop, you are losing time and if the bars turn red, you're going slower. Q-starz is marketed with a mount for motorcycles (included in the box) but it´s a piece of plastic that probably wont last too long on the gravel. The only device that has a proper mount is the Solo 2/DL. But it costs around 80 EUR.
Many of the manufacturers have software to connect the device to the computer to check lap times. But it is absolutely not a requirement, all laptimers show the lap times from the display. It's just a few button pushes away.
The best laptimer?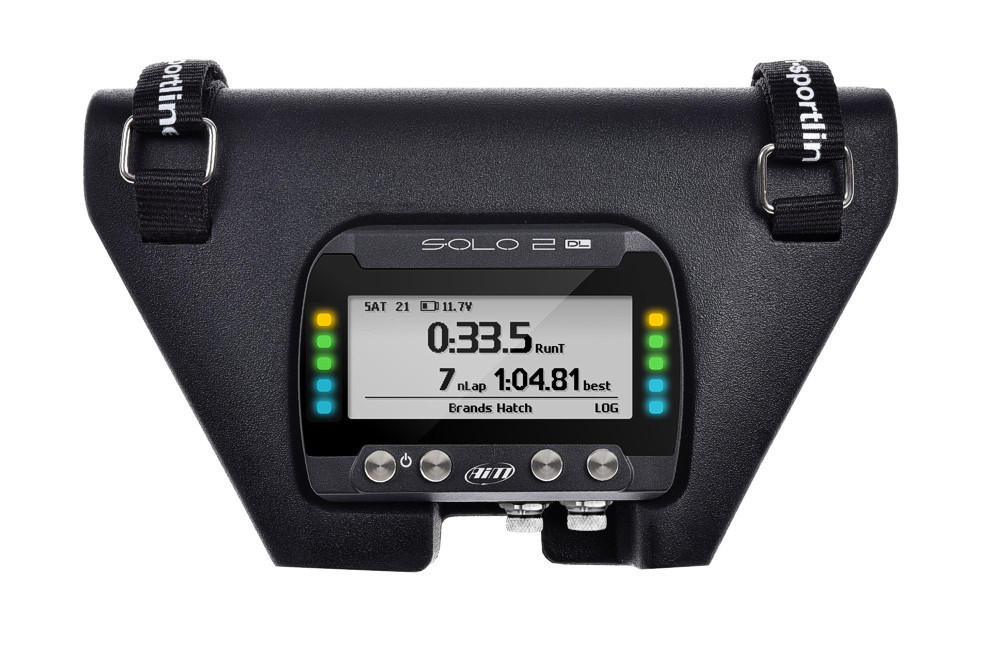 How do we judge which one we want to crown the best laptimer? We decided to focus on laptimes, the ability to connect external sensors and ease of use. So the winner in this category is AIM Solo 2 DL. With some of the extras, bar pad and power cable, it ticks all those boxes. And the buttons are really easy to push even with gloves on. It´s the most expensive unit in this test, but speed doesn´t come cheap.
Best buy?
Best "Bang for the buck" is awarded to PZ Racing Start Basic. At just 250 EUR you can get a solid unit that works really well, has big numbers on the display and uses 50Hz! It has a touchscreen that works with your gloves on. You have the ability to create tracks at home on the computer or at the track as you ride. The software for setting up the tracks is really good and it uses sattelite maps. So it´s pretty easy to find your local track aswell.
Cheapest laptimer?
The cheapest option to go is the PZ Racing Start Micro. In order to set the track you just walk out to the finish line and press a button. It´s that simple. The downside is that it can only handle one track at a time. So whenever you switch tracks you need to set the track again. The memory is limited to 82 laps, which is probably more than most riders will need in one day. To clear the memory you just need to push a button.
But, the price difference between a Micro and a Basic isn´t all that big. So why not just get the Basic?
Clarity matters
Even though the bars on the Solo 2 are good they are no match for the color differences that come with a full color display, like the one on the Q-starz-6000S. It´s an easy win for the only unit with a color display. And it doesn´t hurt that is fairly easy to use. You can let the unit learn the track for itself or you can set the track with or without split-times. You may also plug it into the computer and adjust finish line or splits.
For dummies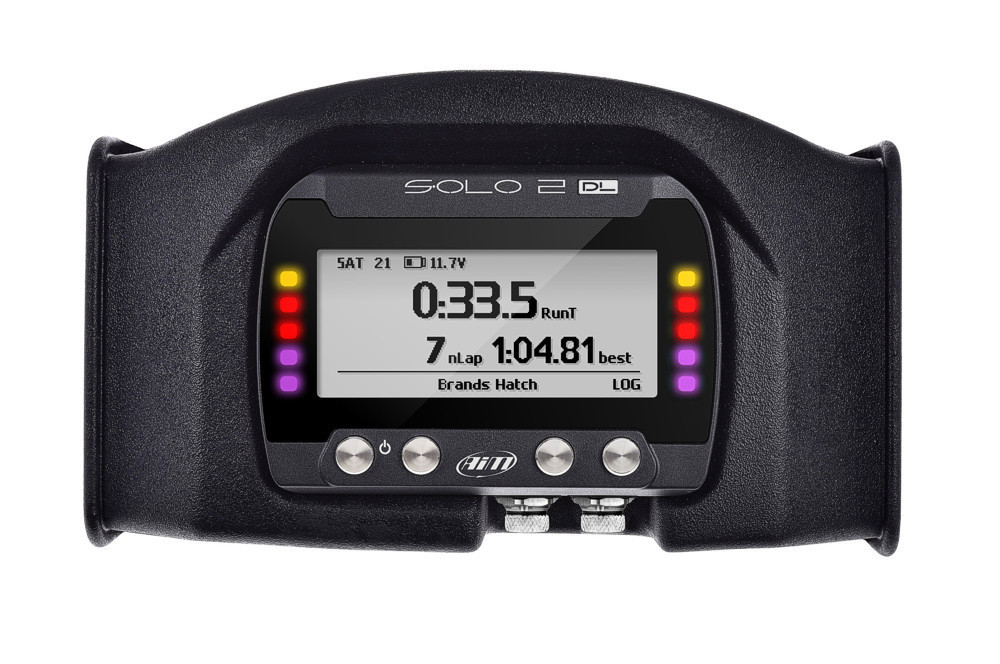 When starting up the AIM Solo 2, it also starts the track recognition. If you are close to a track, the unit will pick that track and log lap times. If you are at a new track, it will switch into track learning mode and it will learn the track as you ride. It doesn´t get any easier than that. Solo 2 DL has the same function but it isn´t for dummies. 😉
Dataloggin on the cheap
PZ Racing Start Next has the ability to log data, and utilize external sensors as well. Unfortunately they aren´t able to log from any MX/Supermoto bikes at the moment (cables for those ECUs are currently not available). They may be persuaded to add that to their shop if enough people are interested. You can get a Start Next for 348 EUR cheaper than the Solo 2 DL, so what´s the difference? It´s probably in the software which we don´t have time to dig into at this point. Drop us a comment if that´s something you would like to see more of. We´re just one bad idea away from spending even more time looking at laptimers. 🙂
Good luck with yor new laptimer and don´t forget to tag us on social media to show of your new unit! 🙂 #supermotosweden