It was a chilly morning that welcomed the drivers on race day. Luckily, the sun came out to join us after lunch and averted a number of potential colds.
Open
The trend of a full open class looks to be holding up. The A and B classes in the Open had a total of 23 drivers who participated. We saw two pilots, who had previously competed in Elit, guest play in Open, Johan Granvik and Pär Hammarstrand. This was Pär's third open event this year. They stirred the pot among the top drivers.
In the time qualifier, Pär set the fastest time with 59.82. Anton Johansson was second with 1:00.55 and Johan managed to take the third best time 1:00.95. Patrick Bengtsson scored 1:01.09 and took the fourth best time for the last place in the front row. Pär was fastest in the start in both heats and held his lead all the way to the finish.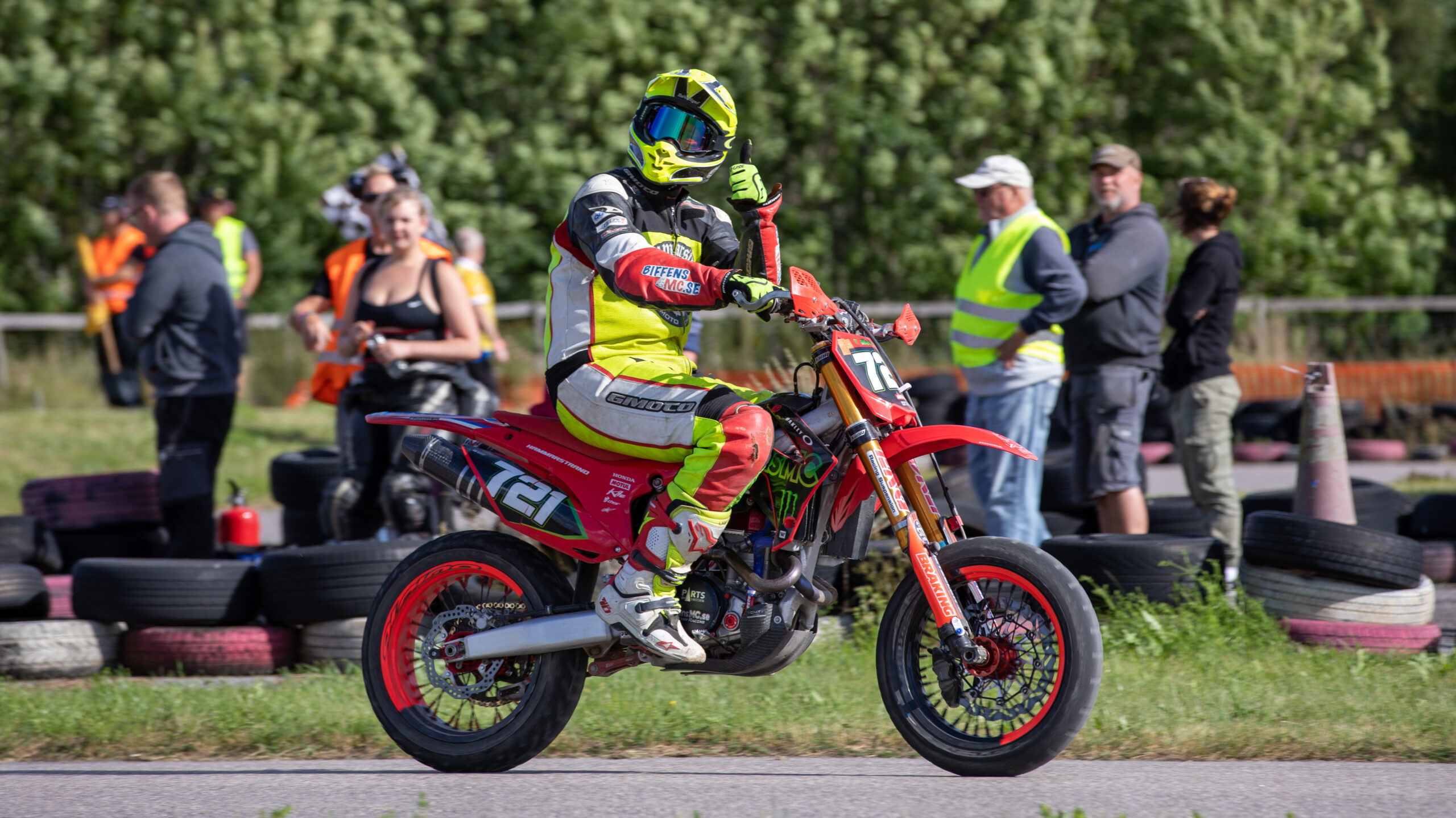 Anton tried to chase after, but Pär was simply too fast. Anton took second place in the first heat but was defeated by Patrick in heat two. After dropping down to sixth place on lap five, he drove himself up to third place before the finish.
Patrick fought with Johan and Martin Dahlén Ekwall during the day. In the first heat, Patrick, Johan and Martin were side by side into the first curve. Patrick had the inner track and was able to stay ahead of the others. Johan chased after and managed to get past Patrick just two laps later. Patrick did not give up, however, and managed to re-gain third place with four laps left. Johan later made a mistake and dropped down to seventh place before the heat was over.
In heat two, Patrick made a worse start than in the first heat, and we saw him go through the second curve in fifth place. Martin and Johan had done better to get in front of him. Martin managed to get past Johan on the third lap and was then able to keep him behind him. Johan eventually dropped down to sixth place. Patrick chased the drivers in front for most of the race and set his fastest lap lap before overtaking Martin for second place.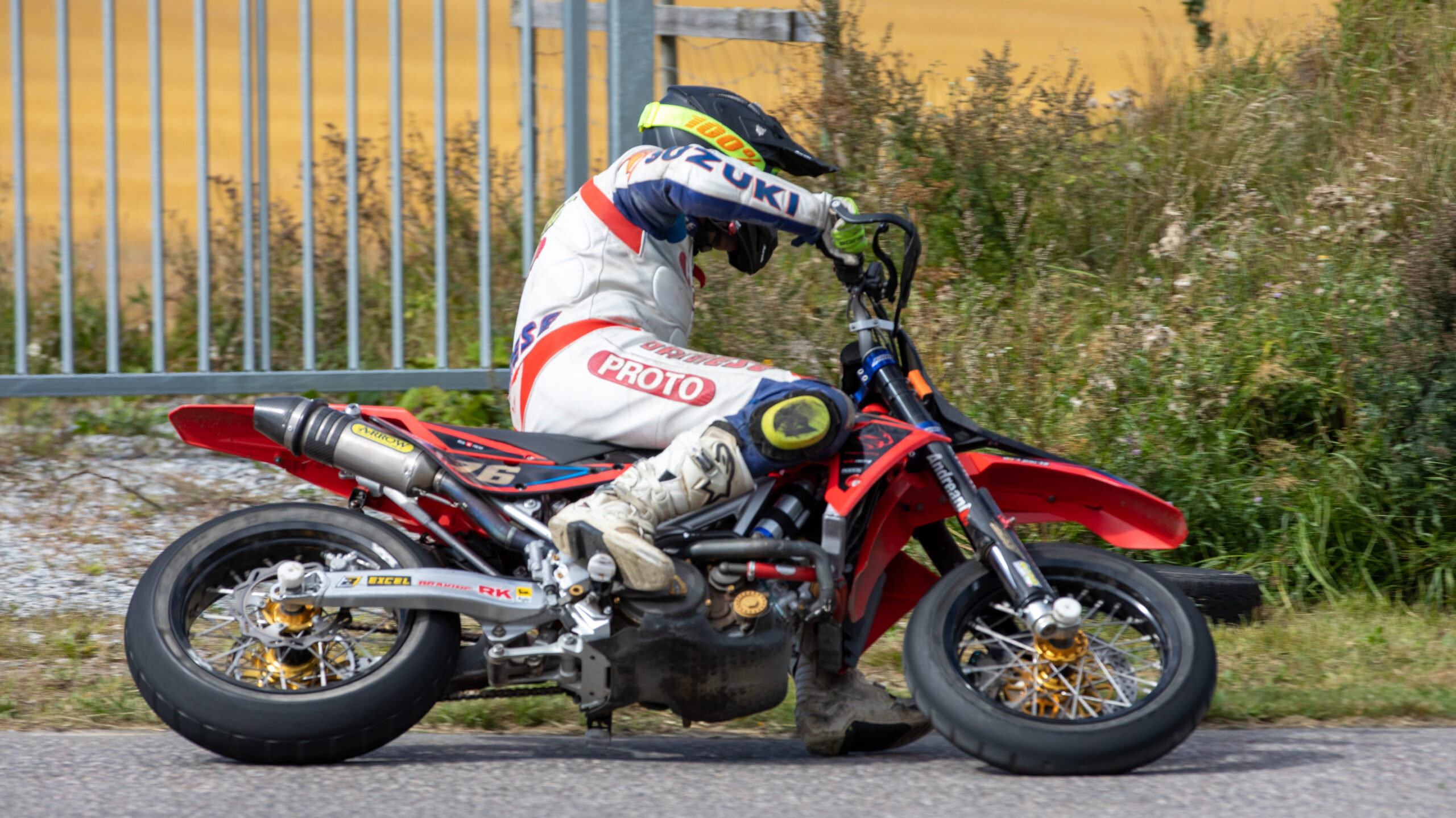 In the final heat, with a reverse starting order for the ten fastest drivers, Pär started on the tenth starting grid. After the first lap, he had worked his way up to third place. Just five curves later, we see him overtake Björn Karlsson, who started in pole. But it is Bjorn that we see coming first out of the gravel trail. Pär came through later, walking with the bike, he unfortunately had to quit the race.
Anton started in the ninth, in the middle of the third grid. This meant that he could not take as many placements in the first curve as he would certainly have liked. Anton makes his best race of the year and fights his way through the field up and takes the lead after just three laps.
Martin dropped from a sixth start grid, down to ninth place on the first lap but fights back up to third place on lap five. He's in fourth place after six laps. Patrick also had a tough first turn and turned as tenth after starting in the seventh square. He's in fourth place after six laps.
With three laps to go, we see Jocke Danielsson and Jocke Wigestål get over the plateau jump out of the gravel. They land and it looks like their handlebars are locked. Jocke Danielsson gets out of the situation rolling but Jocke Wigestål goes down and is left lying down. Race is red flagged. We learn later that Jocke dislocated his shoulder. The regulations say:
"If a competition heat is stopped after 2/3 parts of the distance is run, the race heat is deemed to have been completed."

All placements are determined according to the latest pass of the finish line. So even though Jocke W broke the race, he got a sixth place and important points for the series.

Anton took the overall victory, Patrick ends up second and Martin took third place.
With two races left for the year, the top of the table looks like below:
| | |
| --- | --- |
| 1. Patrick Bengtsson | 146 points |
| 2. Anton Johansson | 139 points |
| 3. Joakim Wigestål | 126 points |
| 4. Martin Dahlén Ekwall | 101 points |
| 5. Roger Reuter | 99 points |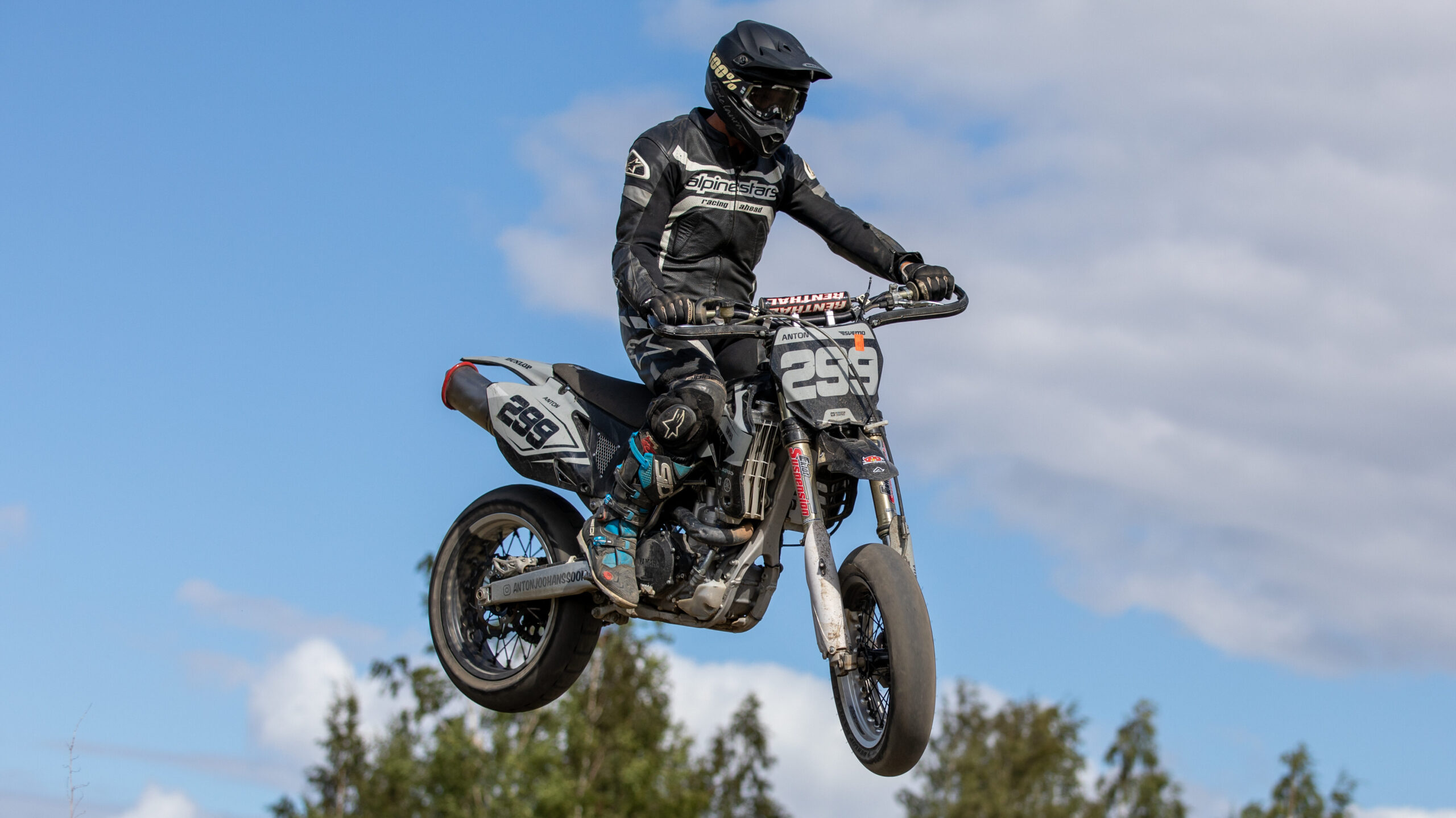 Elite
Hampus Gustafsson had no problem putting the fastest time on the time qualifier, 53,312. He was fastest with 1.9 sec ahead of Fredrik Eriksson at 55,274. Jonas Skovby took the third best time with 55,938 closely followed by Daniel Christensen at 56.117.
Heat one sees Hampus with a fast start and a lead into first bend. Jonas looked to have trained starts and was half a bike ahead of Fredrik. Daniel did not get off to a perfect start and was a few feet behind. Jonas drops two down to fourth on the first lap and those placements stand the entire heat.
In heat two Hampus takes the lead again with Fredrik just behind. It's a bit crowded into the first bend, Jonas and Daniel are hit the hardest by the crowding. Both drivers will have to straighten up and sacrifice the curve. Daniel's the first to go on the throttle again. Both Daniel and Jonas are good at maneuvering the gravel part so they are quick to fifth and a sixth place. After four laps we see Johan Altzar come out on the starting line. You can see that his handlebars begin to throw side to side and, in the end, Johan is thrown off the bike. He ends the journey in the fence in the outer curve. Here, too, the race is flagged, and Johan is helped off the track. Johan suffered a serious concussion and a broken leg in his hand. Since there was only four out of fifteen laps ran so far, the heat is restarted with starting positions according to the last pass of the finish line.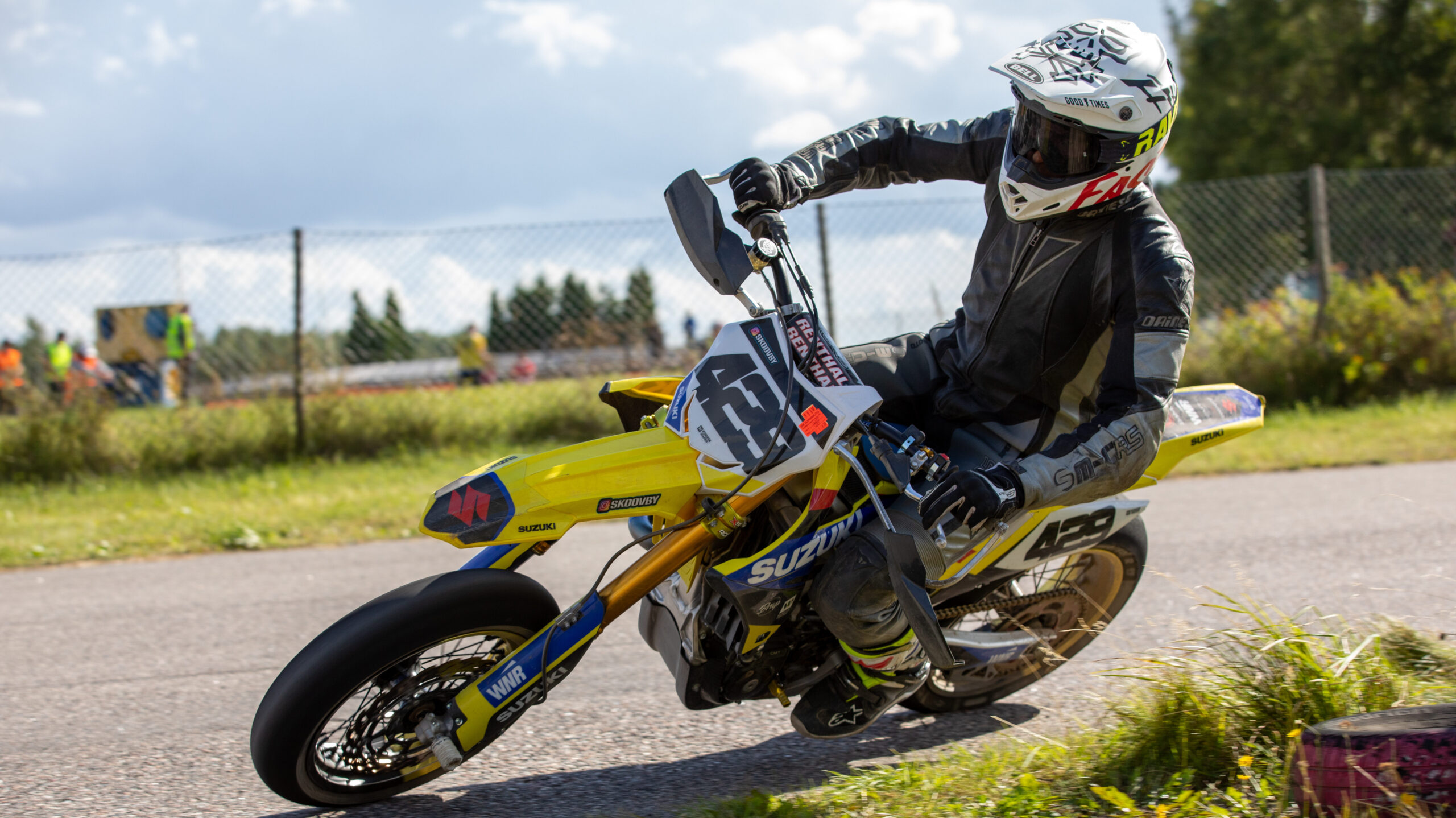 In the restart of heat two Hampus, Fredrik, Carl Wennerberg and Daniel fill up the first start line. Off they go, and Hampus once again takes the lead in front of Fredrik. Carl is fast off the grid, but gets overtaken by Daniel early on the gravel section. Patrik Kerttu comes from a sixth starting place and overtake Carl on the last lap.
In the final heat, with reverse starting order, Hampus is last through the first bend but for lap two he is in second place behind Carl. Hampus passes Carl without any major problems and then creates a comfortable gap behind him. Carl is hunted by Patrik, who in turn is hunted by Fredrik. Patrik never manages to get past Carl, even though he looked faster for a while. It is instead Fredrik that we see getting closer and closer to Patrik's back. For every lap that passes we see the hatch shut off Fredrik. Patrik tries as best he can to avoid being overtaken, but in the end Fredrik finds his way past. Once he's past, he immediately gets a gap at the back of Patrik. Fredrik rolls in over the finish line 6.9 seconds ahead of Patrik.
Hampus took the overall victory of the day with Fredrik in second place and Daniel in third.

The top of the table looks like this right now:
| | |
| --- | --- |
| 1. Hampus Gustafsson | 227 points |
| 2. Fredrik Eriksson | 194 points |
| 3. Daniel Christensen | 148 points |
| 4. Carl Wennerberg | 135 points |
| 5. Patrik Kerttu | 118 points |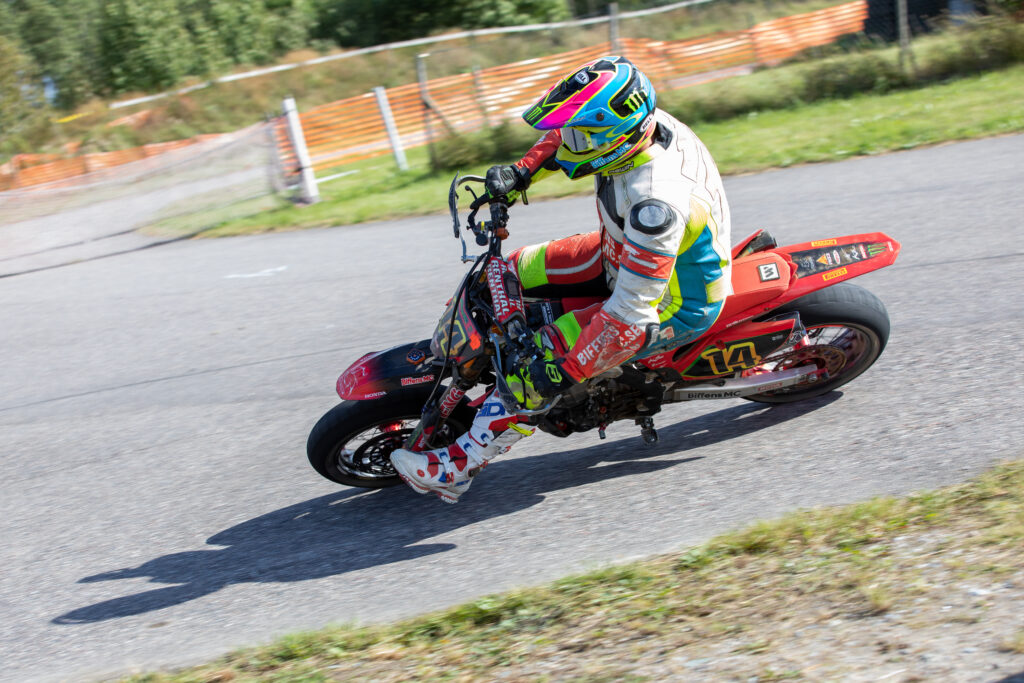 Ladies
The women's class was won by Amanda Karlsson. In second place we found Lisa Envall closely followed by Susanne Törnhult.
Current standing in the Ladies class:
| | |
| --- | --- |
| Henny Cederholm | 200 points |
| Frida Granvik | 156 points |
| Amanda Karlsson | 120 points |
| Lisa Envall | 96 points |
| Susanne Törnhult | 45 points |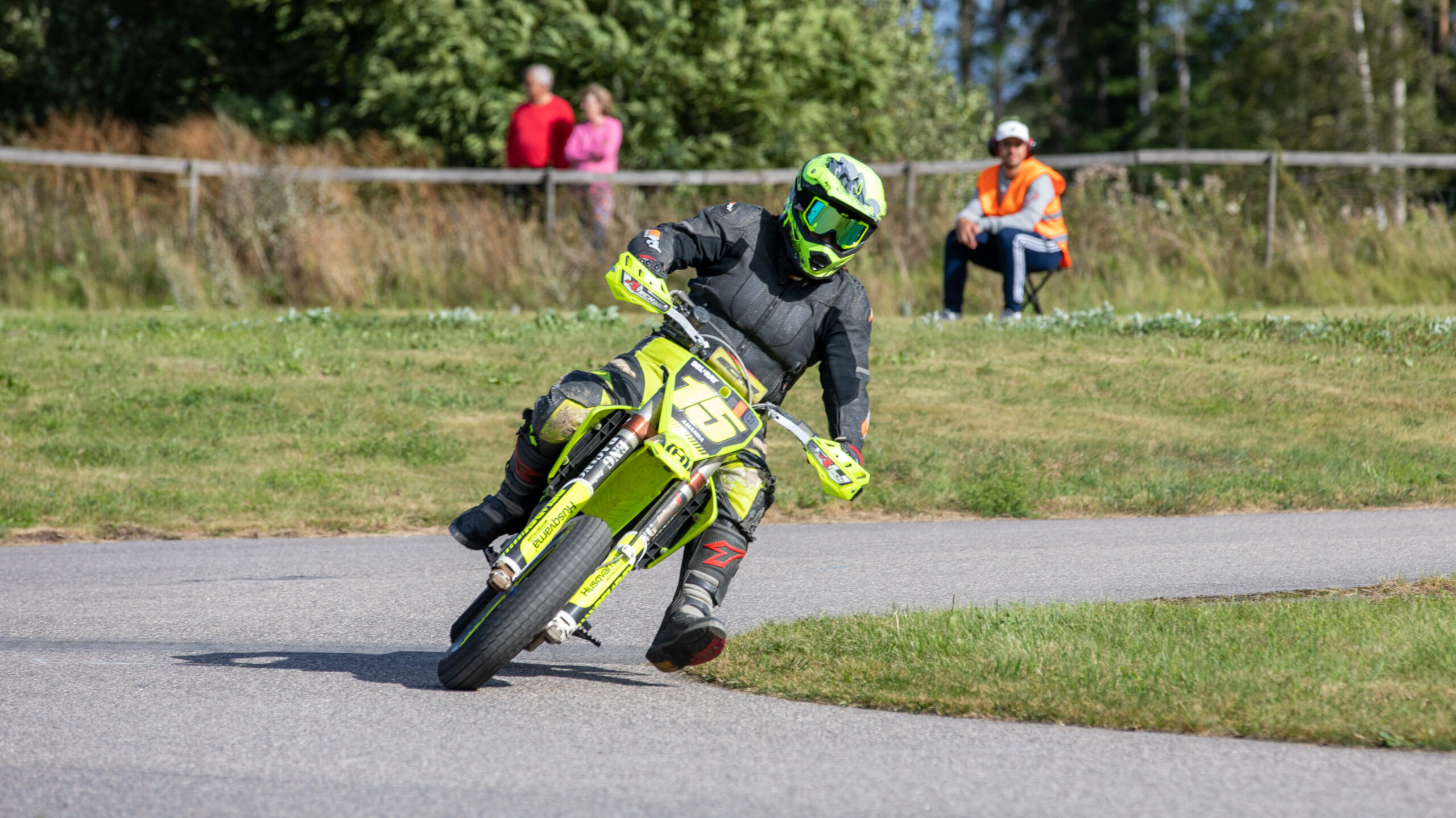 There are now only two races left for the drivers to collect points. The next battle takes place in Västerås at Hässlö traffic practice site. Race summary with moving pictures can be found below, full results available at Svemo.