Before the last race of the year, we had three drivers who aspired to the title in the open class. Pär Hammarstrand was 46 points behind Patrick Bengtsson in first place. Patrick has been driving very evenly all year, so the odds were not on Pär's side – meaning that Patrick would zero two heats. Anton Johansson was twelve points behind Patrick for the competition. 

When the time qualifiers were over, we had a new name in first place. Lukas Karlsson had set the fastest time in the Open with 54,033. Pär was a full second behind, 55066. The leader in the Open, Patrick, was third fastest, 55,240 and Jonas Karlsson filled out the last starting box in the first round at 55,605.
In heat one it was tight at the start. Pär led into the first bend but Lukas hit the curbs in curve two and moved on Pär so he could take the lead. Pär was not fast enough to hang on to Lukas and unfortunately crashes on the fourth lap. He drops down to sixth place before he's back on the wheels.
Patrick is fourth from the start with Anton right behind. In front of him is Sebastian Holmgren. Patrick charges for eight laps before braking up evenly with Sebastian in the first bend. Sebastian is forced to go wide, misses the curve and ends up on the outside of curve two with engine failure. Pär also earned a place when Sebastian came to a standstill and finished the heat in fifth place.
The standings after heat one looked like this:
| | | |
| --- | --- | --- |
| 1 | Patrick Bengtsson | 215p |
| 2 | Anton Johansson | 201p |
| 3 | Pär Hammarstrand | 163p |
| 4 | Martin Dahlén Ekwall | 140p |
| | | |
Pär can no longer take the series victory but has secured third place.
The start in heat two goes better for Pär. He gets away before Luke and blocks him for two turns before Luke makes his way up alongside the hairpin. Pär has the inner on its way towards the last bend but chooses to let Luke walk by. Pär is seasoned enough to know that Luke would get past sooner or later so it's just a risk to keep blocking him. Patrik was second out from the start but Lukas got past him before the gravel part. Anton's chasing from fourth place. From behind, Jonas Karlsson comes and fights his way from sixth in the start to four over the finish line. He gets past Anton, but he can't overtake Patrick. That gives Patrick a few more points gap over Anton.
Martin came close to losing his sixth place when Roger Reuter tries to slow him past him into the gravel. Roger, however, did not get down speed enough before he got off the asphalt so he still braked and goes on the slopes. Martin can easily slide past on the winger and retains his spot.
Standing after heat two:
| | | |
| --- | --- | --- |
| 1 | Patrick Bengtsson | 230p |
| 2 | Anton Johansson | 212p |
| 3 | Pär Hammarstrand | 180p |
| 4 | Martin Dahlén Ekwall | 150p |
| | | |
The final heat runs with reverse starting order and Lukas gets to start on the tenth start screen. Lukas makes it through the start in seventh place and is then four onto the gravel section. He takes another position on lap two and is then up to first place on lap four.
Fredrik Gustavsson takes the start and holds it for one lap but slides over in the second curve on lap two. He finishes the heat in tenth place. Anton is fifth in the start, works his way up to second place on lap two but is then overtaken by Martin and Lukas.
In third place, Anton only gets 11 points and can't threaten Patrick for the victory. Patrick was only10th in the start and drove himself up to eighth before it was over. It was all well enough to take the title as winner of the Open class in 2020! Anton takes second place ahead of Pär in third. 

Congratulations to Patrick and good job! Congratulations also to Lukas who ran his first supermoto race and takes three straight heat wins.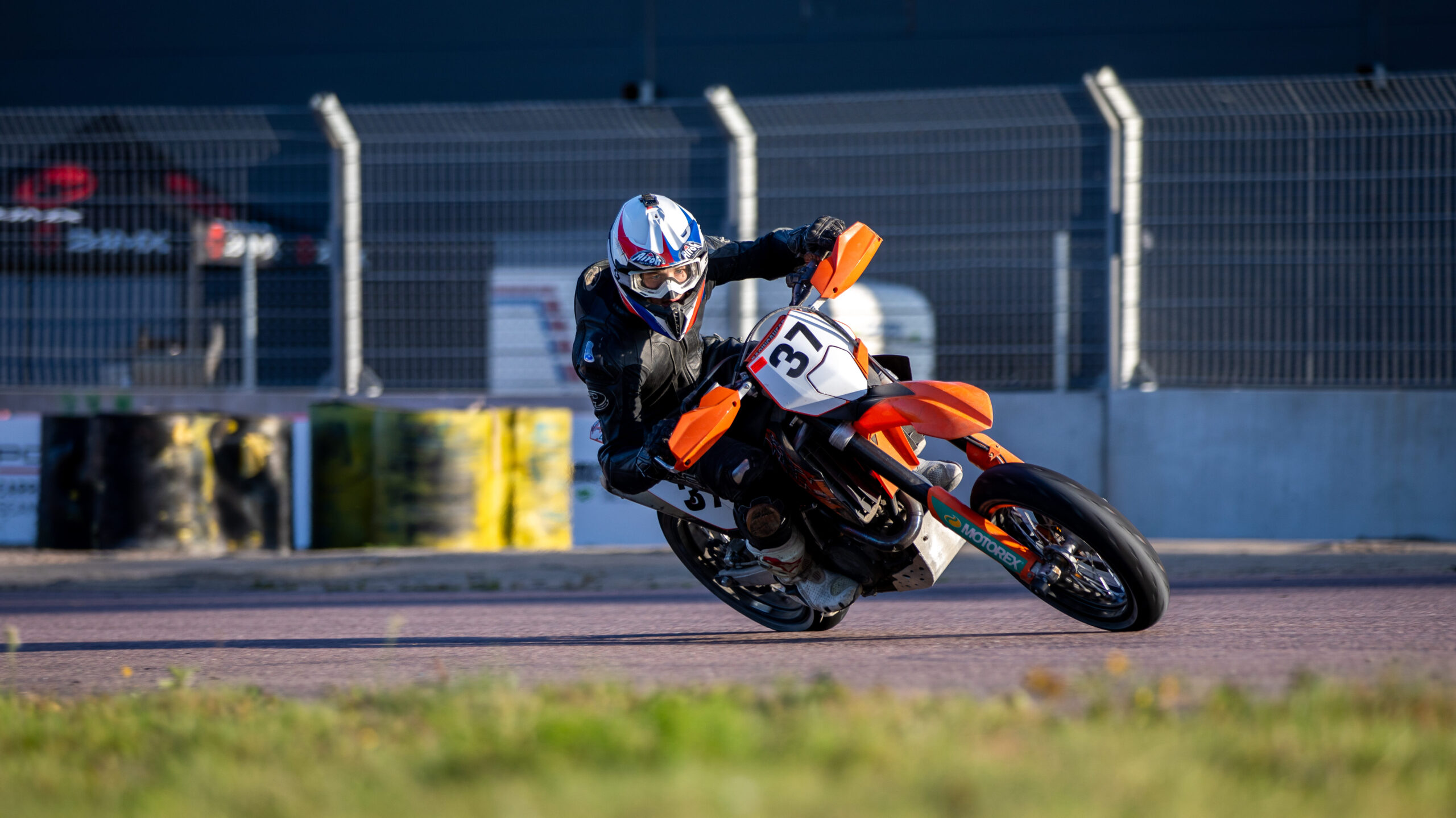 As usual, full results can be found at Svemo.se. Segerlind's video summary can be found here:
Transfer points for Elite racing in 2021?
So which drivers have the opportunity to transfer up to Elite for next year? Some of you may remember that we went through the regulations last year and explained what it takes to go in Elit, if not then you can read it again here. Drivers who want to transfer themselves up to Elite must have earned 12 transfer points during this year's season.
| Pilot | Competition no: | 1 | 2 | 3 | 4 | 5 | 6 | Transfer points |
| --- | --- | --- | --- | --- | --- | --- | --- | --- |
| Anton Johansson | | 1 | – | 3 | 5 | 3 | 4 | 16p |
| Patrick Bengtsson | | – | 2 | 2 | 4 | 4 | 3 | 15p |
| Pär Hammarstrand | | 5 | – | – | 2 | 5 | 2 | 14p |
| Martin Dahlén Ekwall | | – | – | – | 3 | – | 1 | 4p |
| | | | | | | | | |
Three drivers have thus accumulated enough transfer points to apply for an elite license for the 2021 season. Who will accept the challenge? We'll have to see next year.